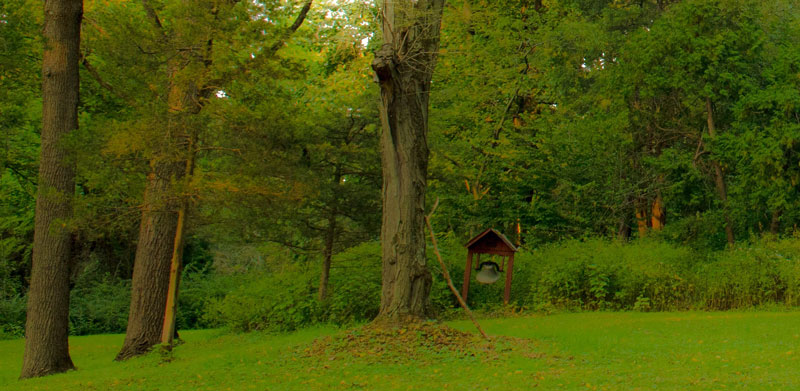 Related blog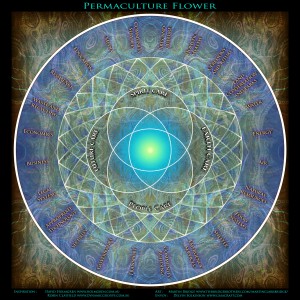 Visionary Permaculture : Media Share
"The world is full of magic things, patiently waiting for our senses to grow sharper."
― W.B. Yeats
A permaculture learning guild gathered on a beautiful spring day permeated with birdsong and sunshine. It was the peak of the full moon as a unique group of visionaries met in the Grey House amidst awesome artworks and in the spirit of creative learning.
Using the Gaiacraft Permaculture Flower Poster developed at CoSM with Visionary Earth Artist, Martin Bridge, we introduced ourselves including the field of society we were working in. It was a beautifully diverse group including alot of artists, healers, teachers and earth people.
Jude Hobbs describes "permaculture as a new buzz word for an old way of being—following our ancestors examples of closing the loops by living connected to the land and being inter-dependent in our community."
Soon moved outside to the grass field at the original pulpit where we discussed ethics and the circle of virtue. Noting ways to care for the Earth, it's People and the Future.
Here  discussed our Transition from using degenerative energy and resources that are used up when we use them and harm life on Earth when they are extracted, processed and utilized. We discussed the fact that we don't yet have the technological prowess to use Sustainable energies and resources in a sustainable way. Ultimately we looked to nature for is ability to use energy and resources in a regenerative and beneficial way. Our gaialogue included ways we could lower our footprint and use biological resources.
Walking under the black walnut trees in the dappled spring sun was a wonderful way to connect with each other and the CoSM ecological community.
Our group broke out into smaller groups to explore 7 Ways to Think Differently using Permaculture as taught by one of Delvin's mentors : Looby Macnamara in the UK.
This was recently translated into delvish, designed by Unity Life Avatar and released as a free downloadable learning tool available in English, Spanish, French, Greek, Portuguese and Serbian (with more languages coming).
Creating a circle near the CoSM hives, we discussed Nature's operating system: OS Gaia 2016. Permaculture draws from traditional and modern understandings about the principles upon which our Earth is designed. Nature is a pattern language, it's a program made of design code with so much to teach us. The ability of our ecosystem to live without creating waste or destruction and regenerate itself is the secret of nature's success on this planet. The great permaculture maestro Larry Santoyo notes that  "principles are indicators of sustainability". We can see what principles are already in play within our design system and reinforce or replicate them. We can integrate more principles into our redesigns and retrofits, to increase the regenerative capacity of our system.
Here we played with the 101 card Gaiacraft Permaculture Principles Design Deck, invoking many of the core principles that underlay the way nature is designed. This is also available as a free download.
A short break saw us returning to the library under large banners of the Sacred Mirrors and Kiss of the Muse. Where we reviewed a series of CoSM Design considerations gathered from Alex and Allyson Grey, the staff and the past two Visionary Permaculture Design Classes as we set up two giant maps of the CoSM Property. What followed was a co-creative design charrette, an artful game with no rules but intentions to generate wild design ideas for how the CoSM land and organization can integrate permaculture design to add elements or move elements around that would help it succeed in its mission to build an enduring sanctuary of visionary art to inspire every pilgrim's creative path and embody the values of love and perennial wisdom. With an eye to saving resources, time, energy and money while lowering its ecological footprint and enhancing diversity.
With pens, pencil crayons, plastercine and many cards sharing common permaculture elements we brainstormed ideas using the game board in a wildly visionary free for all, then wrote down harvests of key ideas on papers that will be summarized in the permaculture design book in the parlour.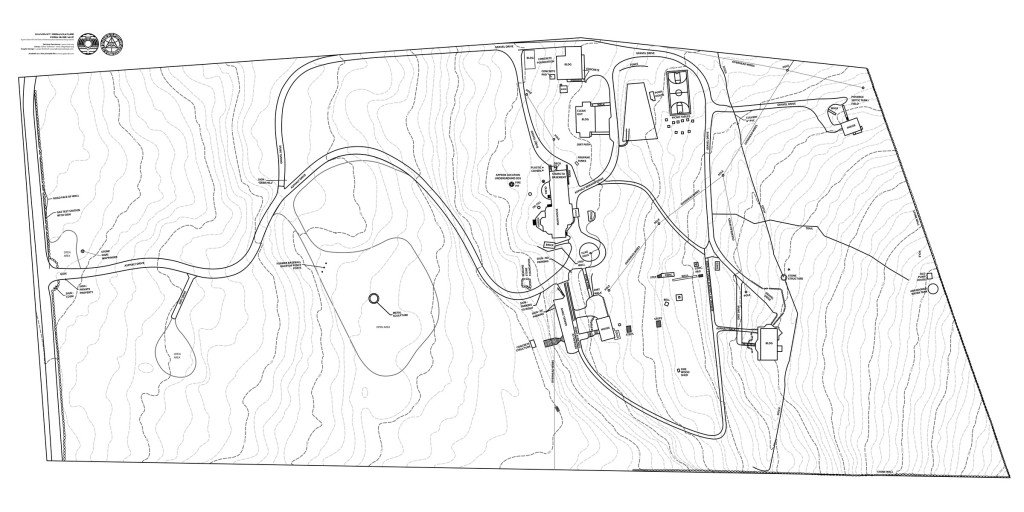 The climax of this permaculture activation was a rant delivered by Delvin about the four fold path of permaculture learning, teaching, doing and sharing. Here was a lineage transmission of many great teachers of the permaculture pantheon like Michael Becker who said :
"Start today, right now!
Don't even finish listening to Delvin complete this blog!
We have to quit talking about what we want to have happen and start making it happen. There is no perfect place or situation to start this work. Stop thinking you'll start when you get your land or find your community. Permaculture is not what we do once we find optimal conditions, Permaculture is the path to optimal conditions. Where you are right now, with the information you have, is the time and place to start."
The workshop, with a ritual circle in which all 39 peoples voices were heard. We shared intentions for ways of moving forward with permaculture before flowing over to the dining hall for an awesome formal meal served.
This was followed by a full moon ceremony including amazing music, performance and sharings. Delvin shared a dewdrop at the ceremony, a poetic remix of the 7 Ways to Think Differently explored by the group in the day.
Abundance Thinking
everything is a harvest
we are all part of the Earths great gifting economy
there is more than enough for everyone
the only limit to abundance is lack of creativity
plant seeds for plenty.
Be an Optimist.
Let the magic of this moment at CoSM remind us that gratitude is regenerative.
Solutions Thinking
everything is an opportunity
we are all part of the solution
problems for us, are often opportunities for others
think about how your problem may be a solution for someone else's
see the mountain and the path around it.
be a Solutionary.
Think about how we are solution for CoSM and CoSM is a solution for us.
Systems Thinking
everything is connected
it's not about the number of elements but the number of connections between the elements
the next level comes from evolving relationships
harmonize with life's murmuration
be a possibilitist.
At CoSM our positivity and inspiration heals and empowers us all.
Thinking like Nature
everything is part of the Earth's ecosystem
remember its not a race, its a marathon
move with patient resoluteness and intention
harmonize with the cycles, patterns and processes of life
anchor your roots while branching out
be an ecologist. 
Connecting with the nature field at CoSM reconnects us with the planetary ecology.
Co-operative Thinking
everything is a co-creation and we are all in this together
the universe self-organizes into guilds
communities of living and non-living things working together, so the products of one meet needs of another
guilds are also able to play functions that none of the individual parts could play on their own
maintain individuality while joining the team.
be a Networker.
together we can make miracles and build temples here at CoSM.
Future Thinking
everything is possible
think about the impact of our actions, and potential to create the future our hearts know is possible
together we are uplifting our work to the next level
help grow everything up
be a visionary. 
What you contribute to CoSM and Entheon now, will reverberate through countless generations to come.
From Thinking to Doing
everything is actionable
connect your values and what you believe in, to what you are doing
your contributions can help unlock tipping points for positive change and motivate others to join with you
leapfrog into the next level of life.
be an actionary 
There is no better time than now to become a member of CoSM, and deepen into your participation here by attending events, volunteering and becoming a member.
Anyone can participate in the visionary permaculture program at CoSM. You can download the last edition of the Visionary Permaculture Map Tome and Design Tome to learn more. While on site in New York you can contribute to the Map and Design Tome, using the green binder in the Visionary Permaculture wing of the Library located in the front parlour. Here there is also a whole wing of the library with books on permaculture, ecology, and First Nations. Here you will find ID books for plants, animals, mushrooms and insects on the CoSM grounds.
Join us for the next seasonal activation on July 17 for a 6 hour class focussed on Permaculture Gardening and Food Forestry.

Be a part of the of year long Permaculture Design Certification program and become a professional designer, consultant and teacher of permaculture with the ability to use the word Permaculture in your business. Live and learn with the CoSM land and community. Discuss design with Alex and Allyson Grey in their studio and on tours. Spend a year observing your own property or project, business or relationship and do a life design to make your system more effective, efficient and ethical.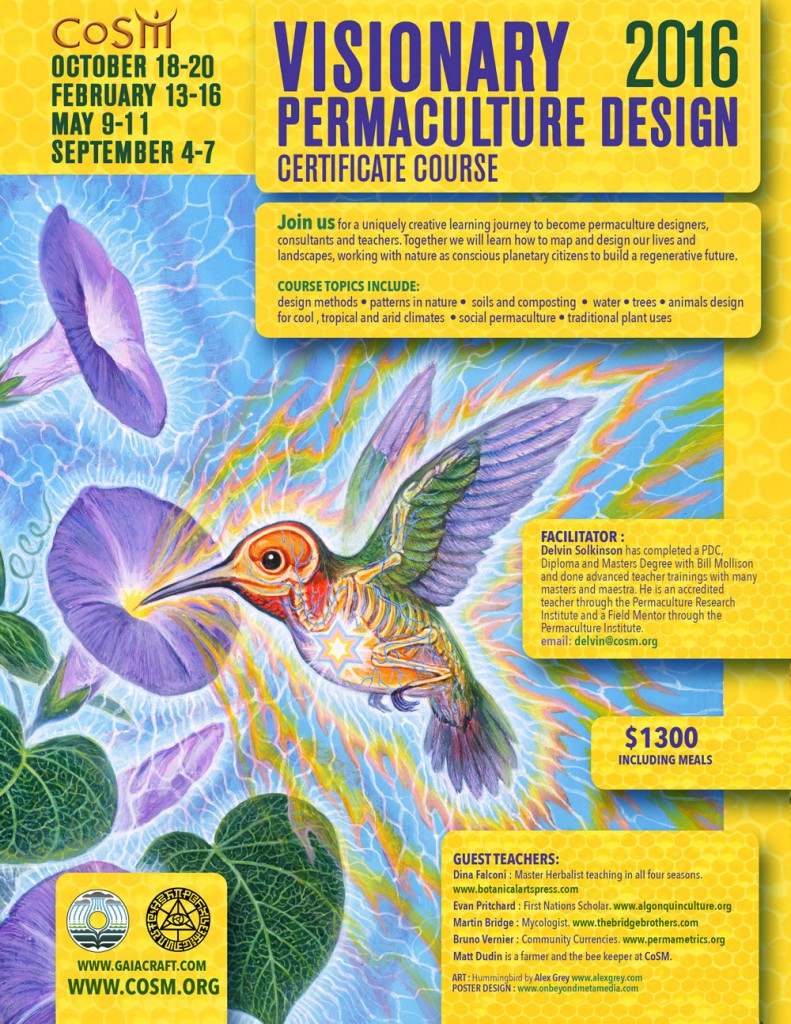 "True riches is having something to contribute
having the time to be creative
and being in love with everything again"
– Larry Santoyo