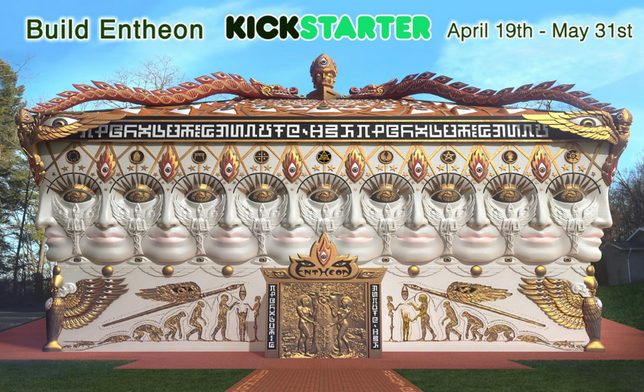 Build Entheon Kickstarter Update
Thank you, Temple Builders, with 18 days to go 1,074 backers have made pledges totalling $135,517!!!
Together we are raising the funds to create an inspiring, secure, acclimatized, exhibition inside of Entheon. We are deeply grateful to everyone of you that have joined with us in manifesting a legacy of love and higher vision for generations to come.
In L.A. this week we spoke with Joe Rogan about the project. Joe felt that, when Entheon is completed, it might be one of the most beautiful Temples ever created!  Check out the JRE podcast with Alex & Allyson.
Another friend, Xavier from The Human Experience spoke with us about the spirituality of creativity. Our podcast with Xavier is available for a listen here.
Currently, Entheon is a well insulated three-story cement and brick structure with a metal roof installation going on this week. The sculpted roof with eyes and dragons will be added along with the sculpted countenance. For now, Entheon is weather tight, a step in the direction of our completed sanctuary of Visionary Art.
When Entheon opens, over a hundred works of visionary art will be featured. Funds raised through Kickstarter today will provide an HVAC system with proper climate for the art. The money will offer electrical work with special gallery lighting, smart security, sound throughout all three floors and a three story elevator. These essential elements will allow the finest Visionary Art to be shared with the world in a sacred setting.
Thank you for joining the adventure of building ENTHEON!!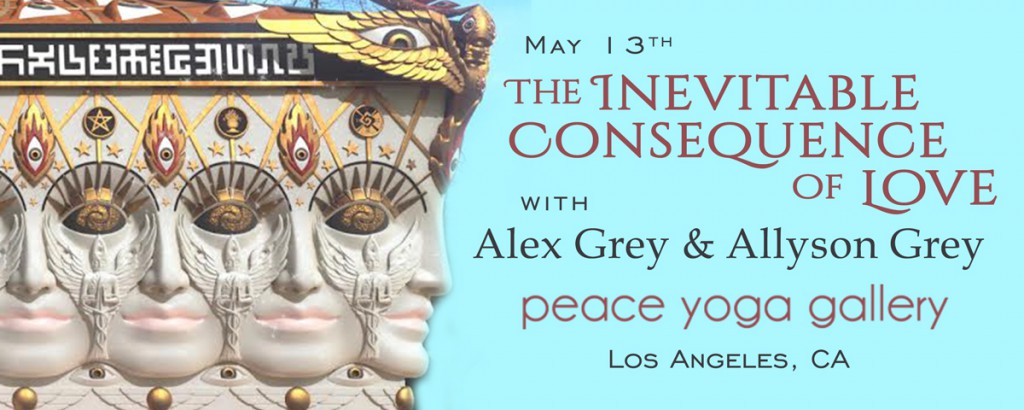 The Inevitable Consequence of Love
An Evening in Los Angeles with Alex and Allyson Grey
When two people love each other they create a "suitable saddle" for a Third Force to ride. Love attracts angels that protect and guide the beloveds. The Third Force, a numinous presence, joins two people and can expand to include family and community. A group soul united in purpose can be a spiritual braid of empowered energy and influence to catalyze planetary transformation. A place to affirm oneness and a connection to the divine, a temple is a declaration to the world of the power of love and unity. Since the earliest architecture, higher vision has been expressed by building sacred space with a community aligned in spirit.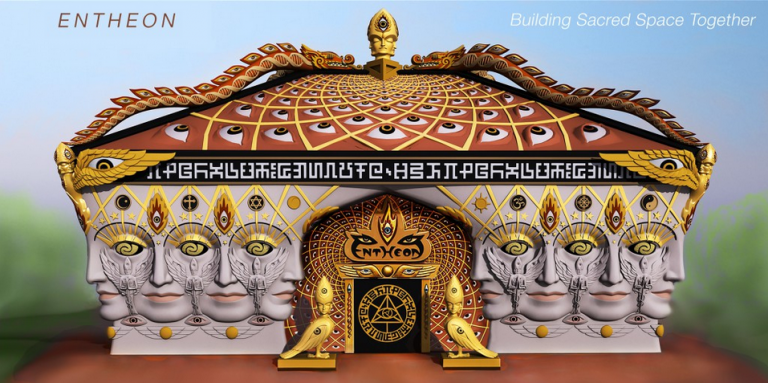 Artists, Alex Grey and Allyson Grey, co-founders of CoSM, Chapel of Sacred Mirrors, will share their journey of painting, performance art and social sculpture that has led to building Entheon, a sanctuary of Visionary Art, now in construction in the Hudson Valley. This program will support the Entheon Kickstarter Campaign in progress.
Living foods menu will be available by Cheri Rae and l.o.v.e. cafe
Music and social hour to follow
Tickets limited to 150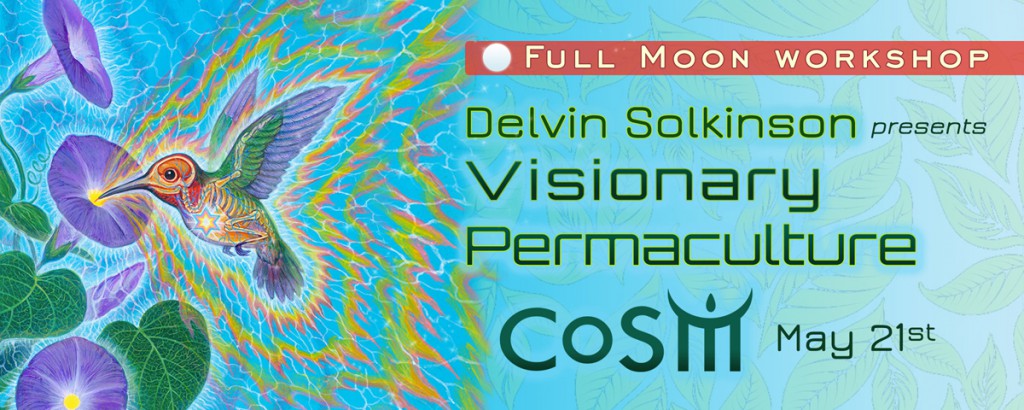 Visionary Permaculture with Delvin Solkinson
Many of us have grown up in an era of conspicuous consumption where disposable lifestyles include the latest toys, fashions, two-car garages and international travel. Now we are challenged to face what these choices cost the survival potential of our species on Planet Earth. Can we transform our culture to live sustainably, considering the capacity of our shrinking planet?
The study of permaculture offers an ecological design toolkit that combines traditional knowledge from the worlds indigenous cultures with modern scientific understandings, teaching us how to redesign lifestyles, homes, gardens, farms and communities in a way that cares for the planetary future of humanity. Food production, education, governance, economics, even personal gardening can all be reexamined to reconnect existing systems. A permaculture redesign could effect how we manage energy and resources and cultivate resilience in our work, our relationships, our community, our ecosystem.
Pilgrimage to the CoSM and join Delvin Solkinson along with conscious learners to experience the new edge of permaculture. Explore together the art and naturescapes at CoSM while sharing in an advanced introduction to the permaculture post-paradigm.
For more details, email [email protected]
Love,
Alex & Allyson